THE PAPA GALLERY
Sandi Johnson
BIOGRAPHY

Sandi Johnson works in a genre called Imaginative Realism. With one grandfather a coalminer and one a professor, she was born of the hills of eastern Kentucky and grew up with a love of the mountains and the trees, the streams and the animals. A sense of their magic and mystery, their humanity, breathe through her art, fantastic and real alike.
Married for, a number of years, Sandi and James have two grown children, three grandbabies, a willful gray collie and a house they are gutting and remodeling in a sort of artisan/eclectic style. Sandi has worked as a librarian, a Lowes clerk, an art teacher, an illustrator and a portrait artist. She completed a BS in Education with an Area of Concentration in Art, (because that gave her the greatest number of art classes) at the then titled Cumberland College, in Eastern Kentucky. (This is not a course of action she would recommend to any aspiring young artist.)
Sandi works, primarily, in oil paint and colored pencil. Her subjects include: animals, flowers, landscapes, portraits, dragons, unicorns, and imaginary creatures. 
ARTIST STATEMENT
Painting has always seemed a magical thing to me. I have never really wanted to do anything else. I love the smell of oil paint, the feel of a pencil in my hand, the sense of being perfectly balanced and centered. I believe art should connect with people, whether to make someone smile, bring a bit of sunshine, or to show something of what it is to be human, the struggle, the sorrow, the love. I believe art can nourish the soul and lift the heart, bring us in touch with parts of our inner selves never seen, show us truths not yet considered. It can help us see more clearly, the world around us, and to see ourselves.
Having said all of that I frequently choose my subject matter simply because it's so much fun. I love creating fantasy; because you can do anything you want with it, express anything you want, and you creating magic and innocence, or danger, if you're of a mind. But I also work in realism, because it lets me explore the wonderful texture, color, light, places and events of our world, taking it as it is for all its richness.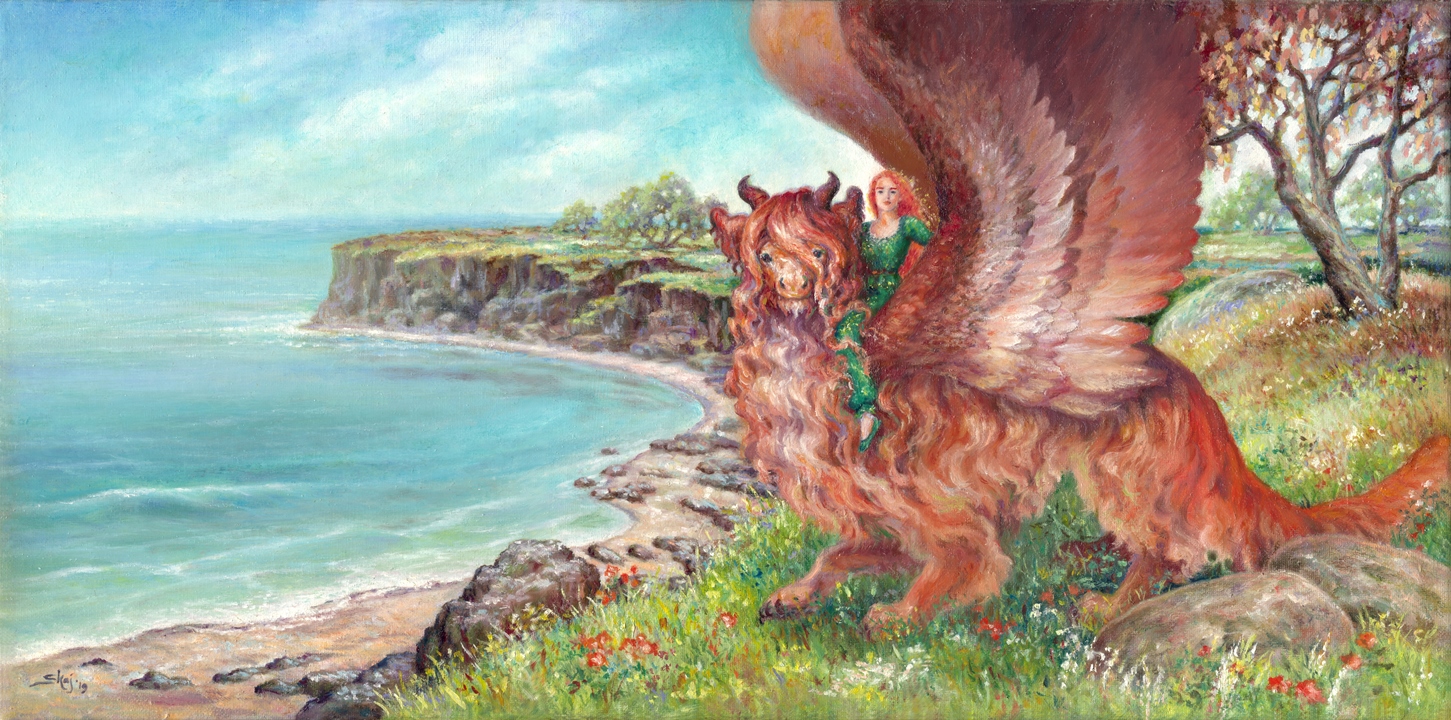 At Land's End
Oil, 24 x 12
The Minstrel
Colored Pencil, 14 x 11
Out of the Mists
Oil, 14 x 11
La Magicienne
Oil, 10 x 12
The Huntress, Interlude
Oil, 16 x 20
Morning Run with The Nannies
Oil, 20 x 16
To Run With the Zephyr
Oil, 20 x 16