Open Hours
Tues - Sat: 11am - 3 pm
Other times by appointment only.
nothing scheduled at this time
Special Events & Extended Hours
nothing scheduled at this time
Paducah Area Painters Alliance
Member Benefits
all membership plans
Exhibit and Sell
All members can contribute to the PAPA Monthly Challenge exhibit both at the gallery, as well as online. 
All members are eligible to be chosen as the Featured Artist for an exclusive one-month show at the gallery and online.
PAPA's 25th Anniversary Challenge, "Cups"
center painting by Clyde H Lawter, Jr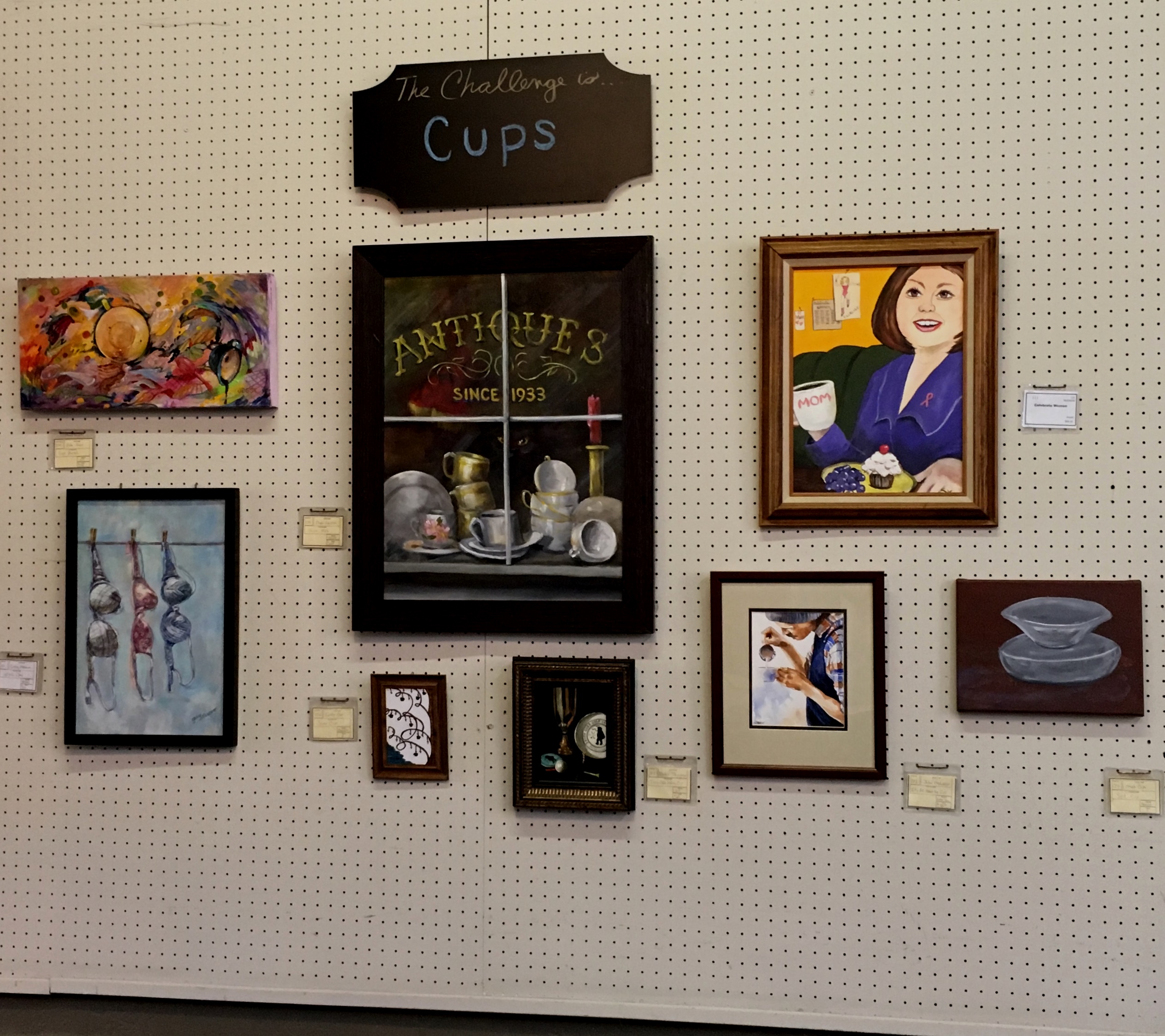 Showcase your art
All members are invited to create an Artist Page on our website.  This is an opportunity to introduce yourself and show examples of your work to our online visitors. Our website is linked with all of the Paducah tourism and art sites. It's also a great way to get to know the artists of PAPA – by their art!
Meet with us
PAPA members meet at the Gallery on the last Tuesday of each month at 7:00 PM. After a short business meeting, artists are invited to share their latest painting or challenge painting, followed by an educational program, presentation, or fun activity. Fellowship and refreshments wind up the evening. Visitors are always welcome.  Members are also invited to join 'The Tuesday Group' who meet at the Gallery to paint on Tuesdays, 10-3. 
Be inspired
A unique activity of PAPA is the monthly challenge painting.  Members are randomly selected to provide a challenge word or phrase, from which artists are invited to present their creation inspired by it.
Framed challenge paintings are included in a special section in the Gallery each month and can be offered for sale. Challenge paintings (photo) may also be submitted to our online exhibit, which do not require framing!
Learn from our library
PAPA maintains an extensive library for use by all the members. There are books and videos covering a variety of subjects including art history on the masters and contemporary artists, instructions in technique and composition, painting in all mediums and much more.  Most of the library has come about through the generous contributions of PAPA members and it is there for all to benefit.
Participate in activities
Opportunities to participate in artful activities exist at PAPA. In May, artists gather weekly at various places around the region and practice plein air painting.  Classes and workshops are offered periodically, often led by members of our group, and sometimes by nationally recognized guest artists.
Other activities include an annual Summer picnic, and a Christmas Party Painting Exchange in December.
Newsletter/ Member Announcements
Receive our monthly newsletter, "Dutch's Doodle" and announcements of art workshops, classes, and exhibits available in our region.
Access all PAPA member content and features on our 'For Members' site.
paducah area painters alliance
Exhibiting Members The papa gallery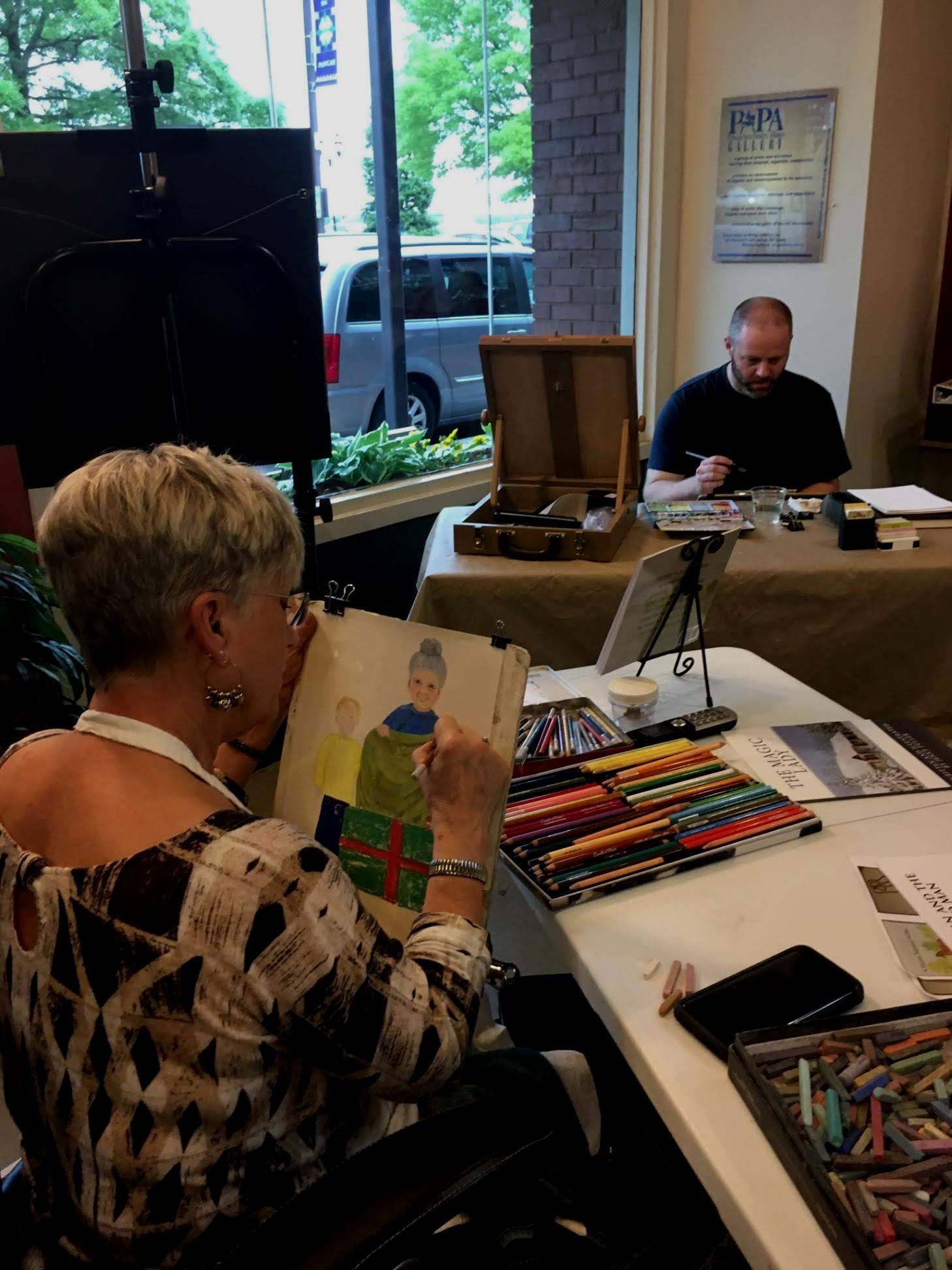 Gallery On Broadway
Exhibiting members enjoy the added benefit of displaying and selling their work in the PAPA Gallery, 124 Broadway, in downtown Paducah KY. There are four show periods each year, each one lasting a period of three months.
For each show period, exhibiting members may enter original paintings in 4 categories: framed, unframed, miniatures, and greeting cards.
Participants must sign up to serve as docent for three days of their choosing when bringing their work for each show.
Artists are invited to bring additional works to display or sell on the day they work, and also to demonstrate their work to those visiting the gallery.
For complete information on exhibiting at the PAPA Gallery, please review:
family memberships are also available
Include your family members with your membership plan and enjoy being a part of art together!