Open Hours
Tues - Sat: 11am - 3 pm
Other times by appointment only.
nothing scheduled at this time
Special Events & Extended Hours
nothing scheduled at this time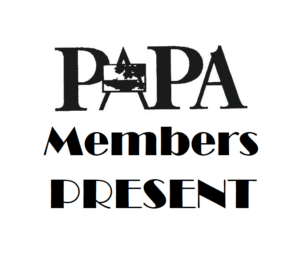 Thank you for sharing your skills, talents, and passion with us!
See more videos on our YouTube Channel
We invite you to SUBSCRIBE
The PAPA Gallery
Caring for Your Art
Protect Your Art
Try to hang your art so that it is not in direct sunlight. This may be tricky because not all walls are in shaded areas of your home, but hanging your art out of direct sunlight will prolong its life as well as reduce discoloration or fading. If you intend to hang your art in a sunlit area, talk to your framer about UV protective glass.
Storing your Art
Unframed art, particularly loose canvases, prints or works on paper, should be rolled in acid free paper or tissue paper and stored in a heavy duty tube. Framed works should be stored in a heavy duty corrugated cardboard box. Make sure that the corners of the frames are well protected with cardboard or foam corner guards.
Cleaning your Art
Art usually requires minimal cleaning and an occasional dusting will generally do. Use a feather duster or clean dry cotton rag to remove surface dust. Never use a household cleaner or liquid cleaning agent of any kind.
Hanging your Art
Once your art is framed, it may be very heavy depending on the size. Use wall anchors when hanging art onto drywall or hammer your nail into wall studs for extra support.
The PAPA Gallery
Printable Documents/ Links