THE PAPA GALLERY
John Duncan McLaren
Art has been part of my life since childhood.   I always remember sketching from a young age, and began painting with oils as a teenager.   I began copying the Masters in my youth, followed by a period of impressionism in my mid-20s, and realism in my 40s.  Currently, I am trying to move to a mix of impressionism and realism.  People have always been the focus of my art, but I also enjoy painting subjects that include boating and seaside themes.  A number of my works have been commissioned portraits and an occasional pet.   I am an avid woodworker and enjoy creating frames that reflect the personality of my paintings.

Other than some art classes in High School, there has been no other 'formal' art training.  I studied Architecture as a freshman in college, before joining the Navy.  While in the navy I embarked on my impressionistic period – a rebellion against convention and an attempt to put some of my life philosophy into my art, painting primarily in acrylics.  After the Navy,  I studied Mathematics and Physics, and eventually ended up teaching at Murray State University for 25 years.  This period of my life was very structured and technical, as one might imagine based on my career.   My artistic style changed, reflecting many years of technical detail.  It was all about precision and realism.  
When my wife and I retired, we moved onto a boat for about a decade, traveling the east coast and Caribbean.   It was at this point I adopted watercolor as my primary medium, due to its ease of portability and simplicity.  It was also a period in which I painted more scenery and marine settings.   My early watercolors continued my 'realistic' style, but as I have progressed to the present, I have been in a constant attempt to free up my painting style and let the medium direct me, rather than the other way around.

As Pablo Picasso once said, we are all artists as children, the problem is to remain one as we grow up.  I will keep trying to rediscover  that right-brained freedom of my youth that is such a prerequisite to becoming a true artist.  In the meantime, I can only hope to stay healthy and busy and now and then produce something that someone enjoys.

I feel honored to be a member of the Murray Art Guild, the Paducah Area Painters Alliance, and Mayfield/Graves County Art Guild .  The artists I have met through such groups both humble me and inspire me.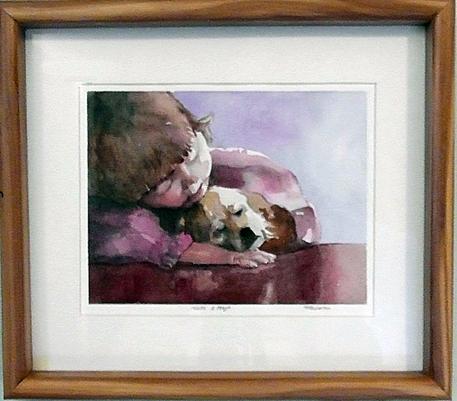 Lotti and May
9×7 Watercolor
Augie's Sunbeam
12×9 Pastel
Innocense
11×13 Watercolor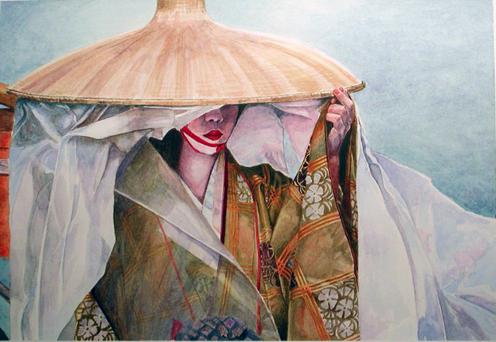 The Geisha
14×10 Watercolor