THE PAPA GALLERY
Gerry Marcum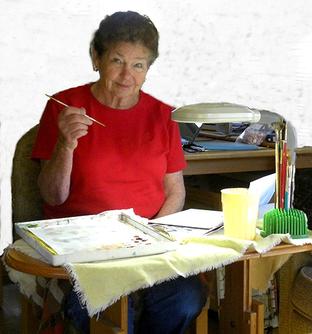 Gerry Marcum, a resident of Paducah, Ky., has been an active artist for 45 years, creating works of art in the Realist tradition.  Marcum works in pastel, oil, and watercolor.  Recently favoring pastels because of their vibrant colors, she prefers to lay the pastel in layers and refers to this technique as pastel painting.  She enjoys landscapes, still life, and portraits of interesting faces.
Though mainly self-taught she has attended several workshops.  These include Cleda Curtis Portrait Painting and Tony Couch Watercolor.  Mrs. Marcum studies and works with a group of artists each week at the Paducah Area Painters Alliance (PAPA) Gallery.  Referring to themselves as the "Tuesday Group," they critique each other's efforts and strive to improve.
Marcum's work has been in many exhibitions including
Paducah Woman's Club Art Show

Mayfield Impressions 2000

Ohio Valley Art League

Murray Art League

Yeiser Art Guild


French Lick Invitational Art Exhibit
Her work is found in many collections including     
The Paducah Bank

Sola A Bron Q Pointe, Evansville, Ind.

McCracken County Fiscal Court

French Lick Springs Resort

as well as in many private collections.
Marcum has received many awards including "Best of Show" at the Sikeston Art League Exhibit and the Paducah Woman's Club Annual Art Show.  She also was awarded the bronze medallion at the French Lick Exhibit 2000.