THE PAPA GALLERY
Chris Thompson
My love for the arts began at an early age. I always knew my dream job was to do something in the arts. The joy that it brings to the public and the artists was always inspiring. When I was young I had wanted a Bob Ross paint set even though I had no idea how to paint or even believe that I could. I think maybe that was an indication of what was to come. I had taken art in school but didn't have the opportunity to paint on the scale I wanted to learn. Growing up in Paducah Kentucky would prove to be the right place for my artistic endeavors.
In 2006 I began attending Easter Seals West Kentucky Adult Center where an art program was started about a year later. I was excited about the program and knew it would be fun. Little did I know the ride it would take me on. By the time I completed my first painting I was hooked. I was amazed what I could do having never painted before. Being physically disabled from birth not being able to do some of the things of other people my age and not knowing what I was going to do with life had affected my self esteem. The program not only gave me the ability to paint but I feel a purpose in life. I knew what I was supposed to do. I also learned that art is very inclusive regardless of disability. If there was a way, our instructor would find it. No one was left out.
My style focuses on realism including landscapes, wildlife scenes, still life's and some florals. However, I have had the pleasure of working with many Lowertown artists learning all different styles and techniques. One special person was PAPA founder Clyde l Lawter.
I am currently trying new styles to broaden my horizon. I love most of all to paint for others. If someone wants something particular, I want to be able to try to fulfill it. Most of all I want people who view my work to have a sense of peace. Or maybe help them through a difficult time. I am drawn to very bright sunlit scenes. I feel it reflects how I feel about art. I feel very strongly art of any form should be about fun and not money or fame. The joy of others is the greatest paycheck of all. My first instructor once said "If you're having fun your doing it right."
I've even had the privilege of teaching a few groups and one-on-one classes with the program. I have exhibited work at our Art program auction and the Women's Club of Paducah. My work is in several private collections as well as one at the McCracken County Public Library. If you have a memory or idea you would like to see on canvas feel free to email me at cet132530@gmail.com
Bridge of Tranquility
24×18 Oil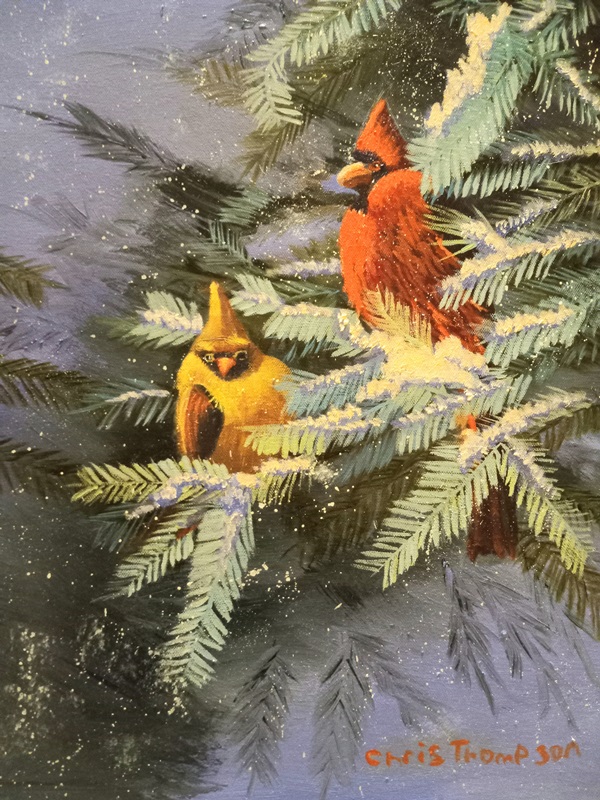 Winter Cardinals
16×20 Oil
 Fruitful Memories
(with Clyde Lawter)
16×12 Acrylic
On the Lookout (diptych) 
2 12 x16 canvases, Acrylic