Open Hours
Tues – Sat: 11am – 3 pm
Other times by appointment only.
the papa gallery
Learn About Art
Framing & Displaying Art
The primary purpose of a frame on an oil or acrylic painting is to focus your attention on the work of art—to create a unified whole that stands alone, separate, and invites undisturbed contemplation. The primary purpose of a frame on a work on paper is to provide structure for the protection and presentation of the piece as well as to enhance its appearance. 
Choosing A Frame
Don't be intimidated by the selection of available frames. Most framers have a large wall dedicated to displaying all the various types of mouldings. First, look at your art. Get a feel for the overall mood of the piece. Secondly, think about where you are going to hang it. If you are striving for a contemporary look, choose a moulding that is sleek and glossy. For a more classic, Victorian, or Renaissance feel, select a moulding that is heavy in ornamentation. Make sure the width of the moulding you choose compliments the art. Usually, the larger the art, the larger the moulding should be.
Displaying Your Art
Try to hang your art so that it is not in direct sunlight. This may be tricky because not all walls are in shaded areas of your home, but hanging your art out of direct sunlight will prolong its life as well as reduce discoloration or fading. If you intend to hang your art in a sunlit area, talk to your framer about UV protective glass.
Glass or No Glass
Consider where you're going to hang the art when choosing glass. All art prints should be framed under glass. It serves as a way to protect the work. Regular glass is most commonly chosen, but if you are hanging a work of art in an area that receives direct sunlight (not recommended), then choose "glare-free" glass as it will cut down on the reflection. Original oil and acrylic paintings on canvas do not require glass. The canvas needs to breathe with the changes in humidity. Watercolor and pastel works can and should be framed beneath glass.
Hanging Your Art
Once your art is framed, it may be very heavy depending on the size. Use wall anchors when hanging art onto drywall or hammer your nail into wall studs for extra support.
Cleaning Your Art
Art usually requires minimal cleaning and an occasional dusting will generally do. Use a feather duster or clean dry cotton rag to remove surface dust. Never use a household cleaner or liquid cleaning agent of any kind.
Storing Your Art
Unframed art, particularly loose canvases, prints or works on paper, should be rolled in acid free paper or tissue paper and stored in a heavy duty tube. Framed works should be stored in a heavy duty corrugated cardboard box. Make sure that the corners of the frames are well protected with cardboard or foam corner guards.
the papa gallery
Our Library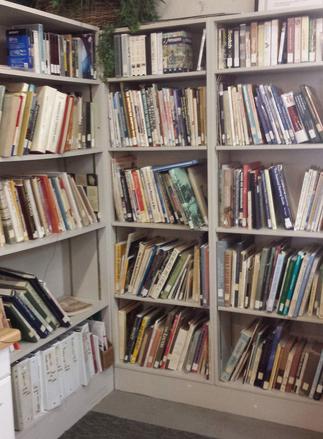 Artists Library
PAPA maintains an extensive library for use by all the membership. There are books and videos covering a variety of subjects including art history on the masters and contemporary artists, instructions in technique and composition, painting in all mediums and much more. Most of the library has come about through the generous contributions of PAPA members and it's there for all to benefit.